JCI FESTAC SUSTAINABLE CITIES AND COMMUNITIES PROJECT-PHOTOS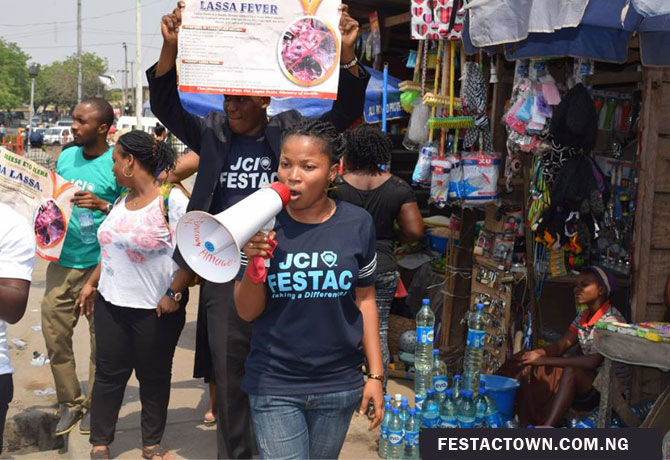 With the objective to create sustainable impact in 2016, JCI Festac partnered with Federal Road Safety Corps (FRSC),  Nigeria Police Force – Festac Command, Kick Against Indiscipline (KAI) Amuwo Odofin Unit and Road Transport Employers' Association to enlighten  major commercial drivers in Amuwo odofin (Mini Bus Drivers and Keke Napep – Tricycle Drivers) on the need to obey traffic regulations, and paying attention to their environment and waste management, in order to create sustainable community for us all.
Speaking to one of the executives Toyin Atanda She said "In promoting sustainable development goal 11 (Sustainable Cities and Communities) we were able to empower this mini bus and tricycle drivers in their park at 2nd rainbow, Amuwo with substantial information on road safety rules and regulations and waste management."
And On Lassa Fever Advocacy   She adds " it is a zoonotic disease, meaning that humans become infected from contact with infected animals, which are mainly rats. Like Ebola, Lassa is deadly, and is estimated to kill 5,000 people in West Africa, every year. With partnership with the Local health center we reached out to the majority of the market traders in Agboju and also passerby were curious to listen to the information on the preventive measures to be taken in order to Kick out the deadly disease from our community.  With the use of our public address system and printed materials in English and Yoruba language we sensitize the market traders in Agboju Market, Amuwo Odofin on 23rd January 2015″.
Well done Guys..