Meet the Youngest Serving FTRA President – SHOLA FAKOREDE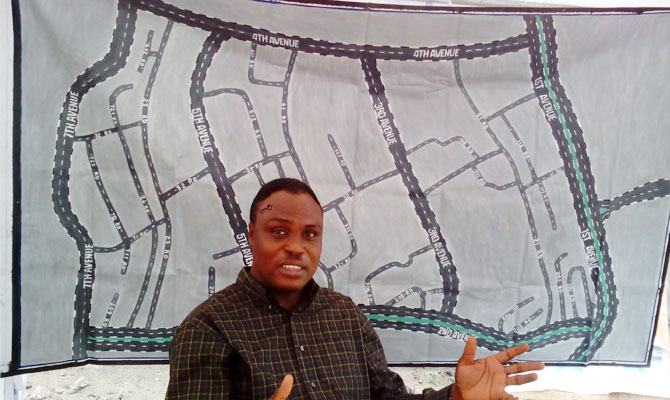 The youths of Festac Town are guaranteed to benefit more now from the State and Federal government schemes on youth empowerment.. Shola Fakorede (FTRA PRESIDENT)
Born in 1976, Shola Fakorede hails from oyo state, although not born in festac relocated with family at the age of 1
He started his education from UPE 1 (Universal Primary Education) and also Amuwo Odofin Boys Secondary School, then proceeded to Festac College. He is a graduate of Banking and Finance from Kwara State Polytechnic Ilorin.
After his Education, he was self-employed organizing event shows and marketing / promoting brands with a friend.
"I and my friend organised road shows, beauty peagents across campuses in Lagos.We were the first to host and showcase the famous FESTAC legend 2face Idibia Live in Festac in 2003 in festac."
Furthermore, he ventured as a publicist in a Magazine with his friends shortly after his First Degree, and he presently owns the magazine – PEERS MAGAZINE. His magazine organize events for secondary school students, excursions, End-Of-Year Parties, Awards.
When asked about the history of FTRA (Festac Town Resident Association), he said :
"After the Festival of Arts and Culture in 1977 during the tenure of Head of State, General Gowon. This Housing Estate was built to accommodate all the guest that attended the festival. Federal Housing Authority (F.H.A) is the parastatal under the Federal Ministry of Housing, the First General Manager – Mr. S.P.O Fortune Ebie charged the residents to form an association where complains and suggestions were channeled through. There are five Communities and twenty four executives per Community".
Mr. Shola has been an active member of the festac community for over a decade, his community interest was ignited, when he was a member of the Vibrant 201 Youths Association and later became the president.
"We were very active then in 201road. We implemented a lot of projects that added value to the community."
When asked about his FTRA career he said:
"I started attending FTRA meetings about ten years ago. Pa J.O Shonekan then the Chairman of Community 3 persuaded me to join the Association. I became Assisant Secretary of Community 3 in the election of 2007, then Secretary of Community 3 in 2009, Youth Coordinator of FTRA in 2011, Chairman Community 3 in 2013."
Mr. Shola Fakorede contested for the office of the President of Festac Town Residents Association in 2011 and later in September 6, 2014 was elected and also doubles as the Chairman of Community 3.
On FTRA Leadership role, He said:
" I have attended a lot of leadership trainings and human management seminars which has helped me to manage elders in the community as a whole"
On Festac Town Community Projects, he explained :
"While at a forum at Airport Hotel Ikeja, the Managing Director, Ikeja Electricity Distribution Company stated that, they are installing fifty thousand prepaid meter daily, free of charge. Then why should Festac residents pay twenty-five thousand naira for a single phase and fifty-five thousand naira for three phase prepaid meter". He further added, " I asked the management when they would complete installation in Festac Town, they didn't specify any time frame but we are positive it will be resolved in no time".
He also reaffirmed his commitment towards working with Lagos State Waste Water Management Company to propose a more sophisticated solution to sewage disposal.
On more projects he said :
"The construction of the Secretariat of the association, located at 201 road beside Loral Primary and Secondary School, is a major project underway, the last quarterly general meeting on 18th of July was held at this venue, donations are very well welcomed also. Moreover, the association has written to F.H.A concerning breaking of traffic rules, and exit routes out of the town other than the Festac / Amuwo link bridge. The association under this administration, will work more on infrastructure development, welfare and youth empowerment".
On Youth Empowerment, the President said :
"The youths of Festac Town are guaranteed to benefit more now, than ever before from the State and Federal government schemes on youth empowerment, we are working hand in hand with our elected representative in government to achieve this".
Festac Town Community Sectors
community one – 7th Avenue,
community two – 5th Avenue,
community three – 3rd Avenue,
community four – 6th Avenue,
community five – Abule-Ado.