Apple iPhone 6 vs Samsung Galaxy S6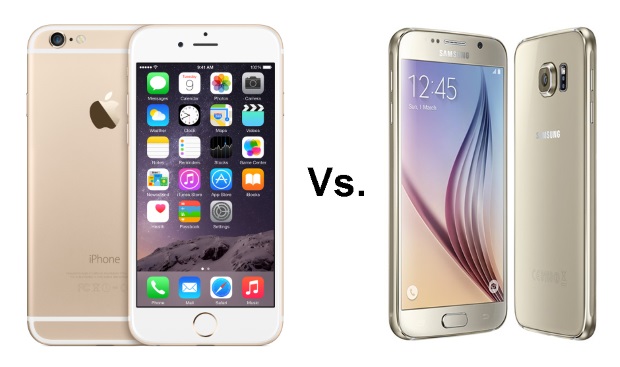 iPhone 6 vs Samsung Galaxy S6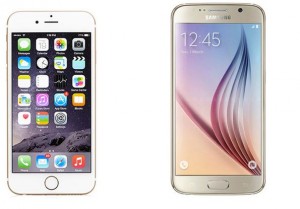 We all are aware of the intense competition between both mobile phone giants Samsung and Apple. Both companies have refused to acknowledge that either of them have the better products. This is definitely healthy competition for mobile phone users because it just gives us the ability to be wowed every time either of them release a new product.
Latest releases of both companies are the iPhone 6 and 6 Plus (Apple) and the Samsung galaxy S6 and S6 edge (Samsung). No doubt these 4 flagship phones are awesome but this post will be concentrating on just 2 of these 4. This post tries to compare the iPhone 6 versus the Samsung galaxy S6 giving the readers a clue if stuck in-between making a choice.
Let's compare based on 5 major aspects. Operating System, Camera, Phone & Memory size, battery life and most importantly price.
Operating System  
The iPhone 6 being a flagship phone comes with the iOS 8 allowing the user upgrade to the version 8.4. This OS will come with all the regular apple phone apps with updates. For apple lovers, hope you find this OS more interesting than the older versions. The Samsung galaxy S6 comes with the Android OS version 5.0.2 Lollipop upgradable to the Lollipop 5.1.1 version. For the android faithful's, I bet Samsung has got a lot in store for users of the almost latest operating system.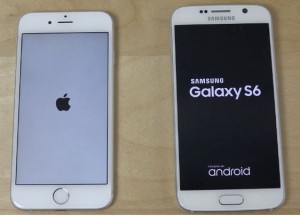 Camera
iPhone 6 primary camera is an 8MP with a 3264 x 2448 pixels resolution and a 1.2MP front facing camera while the S6 has a primary camera of 16MP with a 2988 x 5312 pixels resolution and a 5MP front facing camera. For the selfie lovers, the S6 is definitely a winner in this round. Both of these phones take great photos using their primary cameras so to decide which is better I guess you have to be very interested in photography & lighting to take a pick.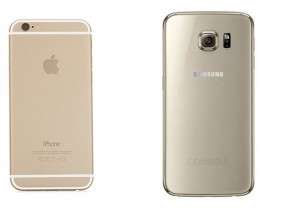 Phone & Memory size
The iPhone 6 smaller and lighter than the S6 with its 4.7 inch screen. Despite the screen size, it has an impressive 750 x 1334 pixels screen resolution. On the other hand is the S6 with quite a bigger screen. This device has a 5.1 inch screen with 1440 x 2560 pixels screen resolution. For users who watch a lot of videos on their phone, the S6 clearly wins this round. The iPhone 6 phones come in 16GB, 64GB and 128GB storage while the S6 has 32GB, 64GB and 128GB devices. Both phones do not support micro SD cards. So depending on how much data you have to store, have fun with either of these options.
Battery Life
Considering our society, this is definitely a major thing to consider when trying to decide which phone to purchase. The iPhone 6 comes with an 1810mAh non removable battery while the S6 comes with a 2500mAh also non removable battery. Just by the specs alone, the S6 clearly has better battery power hence would ideally last longer than the iPhone 6. Another plus that Samsung has added to the S6 is the wireless charging feature. This isn't available with the iPhone 6. The S6 also charges relatively faster than the iPhone 6 as a result of Samsung's rapid charging technology.
Price
This is the most important determining factor with regards to making a choice between both phones. On an average the Samsung galaxy S6 is a less expensive than the iPhone 6. Considering the fact that the price varies per storage size and the least iPhone 6 is a 16GB device while the least S6 device is a 32GB device the S6 definitely wins this round. It offers a lot more storage space and loads of cool features for a cheaper price than the iPhone 6.
If you still find a hard time making a choice, let me conclude by mentioning some similarities. Both of these phones have the finger print sensor feature (personally think this is super cool), they are on the list of the best smartphones in 2015, they both use nano-sim cards, and are both fantastic buys. So if you are someone who just wants a really beautifully designed phone and bragging rights, the iPhone 6 is for definitely for you. However if you are die-hard android fan or a techie person, then the galaxy S6 is your best bet.
I hope I have been able to convince you and not confuse you that if you have the money, buy the one your heart chooses and do leave comments on your experiences with either devices below.
Images from google.