FESTAC EVENTS – GYMING WITH THE STARS BY YUDALA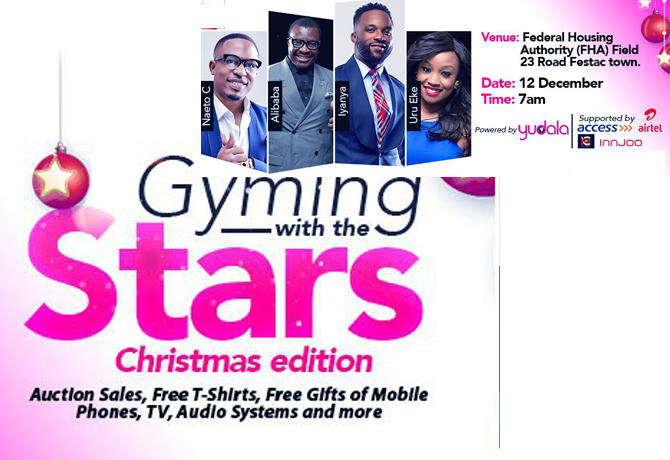 GYMING WITH THE STARS
Yudala Limited Launched with a vision to spearhead a revolution in online business in Nigeria  hereby put together an annual Corporate Social Responsibility (CSR) event  (GYMING WITH STARS)which promotes values such as Fitness, Wellness and Entrepreneurship.
The event is supported by Access Bank and Airtel,
Gyming with the Stars seeks to promote a positive lifestyle and self-empowerment amongst Nigerians.
Slated for Saturday, December 12th, 2015 at FHA Field Along 23 Road, Festac Town, Lagos from 7am -11am,
This event will also feature YUBOSS, an entrepreneurship scheme targeted at jobs and wealth creation for millions of Nigerians and Africans at large.
You can register at the venue on Friday December 11th from 10am.
Top on the bill is a work-out session with A-list celebrities including Iyanya, Naeto C, Ali Baba and Nollywood actress Uru Eke. There will also be a wellness talk and inspirational tips on wealth creation with the theme: "Are you blind to future wealth?"
Furthermore, arrangements have been concluded for an auction sales featuring a wide range of genuine products from the biggest brands: Mobile Phones, Devices and Gadgets, A-Z of IT Products, Consumer Electronics, Lifestyle Goods and much more. All you need is your debit card to take part in this mind-blowing give-away sales.
Auction Sales,Free T-Shirts,Free Gifts of Mobile Phones,TV,Audio Systems and more